Upcoming Events
November 15 @ 12:00 pm
-
12:30 pm
New Urban High School is a magnet school within the North Clackamas School District. North Clackamas District
#12
is one of the largest school districts in the State of Oregon, stretching from the Willamette River on the west to the Damascus area on the east, from the Multnomah-Clackamas county line on the north to Gladstone on the south, encompassing approximately 40 square miles of territory. There are 19 elementary schools, four junior high schools, four high schools, and the unique Sabin-Schellenberg Center, where students from all four high schools assemble for technical, vocational and career education courses.
Along with the district, we believe that our program compliments the district by offering another high school choice for students. We believe in strong connections with students, connections to our staff, connections to curriculum and learning, and a commitment to New Urban as a school. Our students receive a North Clackamas diploma upon graduation.
We require Youth Take Action, a course in which students develop an awareness about their community and how they can make a difference in it. They participate in service activities with local non-profit organizations in order to see that teenagers can, in fact, make a positive difference. Students also are required to complete Senior Internship where they research a career field of interest, complete a 60-hour internship at a local business, create a three-year plan, and present their experiences to a panel.
We employ two school counselors for our 200 students and believe strongly in supporting the emotional and mental health needs of our students. We currently partner with several community organizations who help provide this support. Our students often describe our school culture as "a family" and we believe in creating a culture that is positive, supportive and safe.
New Urban High SchoolThursday, October 11th, 2018 at 7:42pm
Dave
CELEBRATING National Coming Out Day! It was great being with New Urban students and staff members, people from the business community, and fellow church members! 😊
Tuesday, November 6th, 2018 at 8:33am

Here is info about an upcoming fundraiser Nov. 15 benefiting @NewUrbanHS. Thanks Five Guys for the support!! 💲💲🍔🍟 https://t.co/1iYE3ykqtt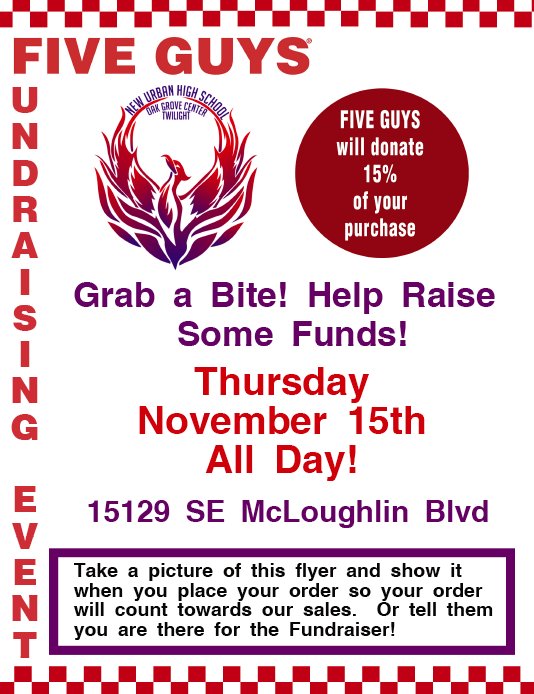 Tuesday, October 30th, 2018 at 12:56pm

We hope you all have a great extra-long weekend. Tomorrow is a grading day, Parent Conferences are Thursday, November 1st, and Friday, Nov. 2nd is an in-service day. The Conference schedule is 12pm - 4:30pm & 5:15 - 7:30pm. Hope to see you there.

Tuesday, October 30th, 2018 at 11:49am

Outdoor School still has male Student Leader spots available for Nov. 5 – 9th & Nov. 12 – 16th. Interested students should call the Outdoor School at 503-614-1403 or email cstewart @nwresd.k12.or.us College credit is available for being an Outdoor School Student Leader!


Monday, October 8th, 2018 at 4:45am

Students participated in mock interviews on Friday. Thanks to all the volunteers that helped prepare students for future job interviews. https://t.co/7lYYPZCxJO

Friday, October 5th, 2018 at 11:52am

Scenes from student tours of our new Industrial Technology Center. Students from @LaSallePrep @EstacadaHS @ocsd62 #CAIS @ochspioneers @ctecyouth @NewUrbanHS learned about education and careers in manufacturing. Join us for public tours & the ITC grand opening at 4 p.m. #MFGDay18 https://t.co/gDaM0JPbVo